Oasis Animal Sanctuary
Author: Margo Harvey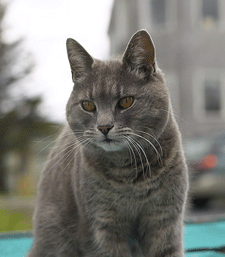 The Oasis Animal Shelter is a non-profit organization in South Jersey that provides a no-extermination refuge for companion animals and other pets. Co-founder Pam Brighton started The Oasis Animal Sanctuary four years ago, after realizing that something needed to be done to save animals from unnecessary euthanasia. Her love for animals has shaped her career choices (she has a background in vet and holistic medicine) and has ultimately given her the great idea to find happy homes for perfectly good animals.
As of now, all members of The Oasis Animal Sanctuary work out of their homes, but they are anticipating moving to a farm where they can operate on a larger scale. They are hoping to have a permanent address by this year. The future holds great things for this organization. They will reduce the number of companion animals scheduled for euthanasia by transferring them to their facility where they then will utilize proven marketing techniques for adoption, fostering, or relocation. They will also be equipped to take in farm animals like horses and other farm animals confiscated by local animal welfare agencies, and then provide them shelter and rehabilitation. This organization looks forward to offering outreach programs that will include education programs to the general public on animal care, the plight of homeless pets, population control and other animal subjects, which includes information about birds of prey.
"The only way to stop the unnecessary killing is to spay or neuter your pet," explains Brighton over a recent phone interview. To date, The Oasis Animal Sanctuary has worked hard to spay/neuter about 420 animals through their low cost spay/neuter program. It is very important to spay or neuter your pet so that there are less unwanted animals, which would eventually be killed when overcrowded animal shelters cannot find homes for them. Many healthy animals are put to death every year, because not enough people spay neuter their pets. In fact, every year five million dogs and cats are put down for space reasons. The Oasis Animal Sanctuary refuses to kill any animal for space reasons and operates on the belief that animals should be treated humanely and with respect. You can find a form for their low cost spay/neuter program on their website. Prices range from 10 dollars for a male cat to 40 dollars for a large, female dog.
Animals are surrendered to The Oasis Animal Sanctuary from many private rescuers out of the goodness of these people's hearts. Dogs and cats that otherwise would have been put down are put into foster homes until the organization can eventually find a permanent, loving home for the animal. The Oasis Animal Sanctuary finds it hard to help a large number of animals, but they are committed to providing quality care for them. They are in need of people who are willing to foster animals. Fostering means that you take in a certain animal for a period of time, until there is a permanent home available. The organization will pay for all the food, medical supplies, or litter the animal may need while it is in foster care. If the foster home wishes to help out with cost that is greatly appreciated, but definitely not expected. Eventually foster homes will be able to experience the joy of giving an animal to a deserving permanent home and see the joy the animal that they cared for brought into the lives of others.
Whatever you do, do not abandon an animal. The Oasis Animal Sanctuary is there to give your animal a second chance. The organization has a screening process for all those who wish to adopt one of their animals. This is to ensure that the animal is going to a loving and caring home. If you would like to look at some of their pets that are up for adoption you can go to www.petfinder.org/shelters/NJ289.html and click on the "our featured pet" link. You may also fill out their adoption form on their home website. The fee to adopt a cat is 65 dollars, but it includes spaying/neutering, testing for feline AIDS and leukemia, and also all of its shots. The price range for the adoption of dogs varies on size and type. Take note, if you adopt two or more buddies or littermates, Oasis will reduce the adoption fee for each animal by 20%!
If you would like to help The Oasis Animal Sanctuary they are in need of the following things: foster homes to help with the animal care, cat food-dry and canned-kitten and adult, a color copier and ink supplies, various size dog beds (elevated), and cat beds (any), storage space for their supplies, marketing/fundraising volunteers, Auto insurance so they can use their van, cat litter and litter pans; bleach and baking soda, postage stamps, paper, envelopes and mailing labels (Avery #5160) or a Staples gift certificate, and (1) large and (2) small easels for posters and pictures. If you would like to send a monetary donation your money could go towards purchasing the permanent facility that this organization needs. The Oasis Animal Sanctuary needs 300,000 animal lovers to donate just $1.00 to purchase a farm for a NO KILL facility in South Jersey. Could one of these 300,000 people be you? Please give! Every little bit helps! Please send Donations and Inquiries to: (Remember: Your gift is TAX DEDUCTIBLE)
Oasis Animal Sanctuary, Inc.
P.O. Box 3
Williamstown, NJ 08094-0003
For additional information, be sure to visit their website at www.oasisanimalsanctuary.org.
If you would like to contact them through email you can send inquiries to oasisanimalsanct@yahoo.com.
Author: Margo Harvey